Post by cj59 on Sept 2, 2020 16:33:44 GMT
Hello Crafters
Phyl
- That was nice that the store sent you a gift card, it is a great incentive to get the customer back in the store. I'm glad you were able to soak that fabric, sounds like you got a lot of color out.
I have a bunch of panels that I try to find good patterns for, there are some really nice ones I've seen on the internet, and even when it's not a panel they used I looked for patterns that had a large solid block in the design and I figured the panel pieces could go in place of the solid blocks.
Sue
- I'm glad you had enough rain so you didn't have to turn on sprinkler. Hope the winds and heat aren't too bad.
Ruth
- Hope you are making progress on your cleaning in case you get to go away somewhere.
Ginny
- I'm glad you were able to get your old Singer machine out and that it fits in the table. I'm sure you'll enjoy having it in your room, just like your mother enjoyed her machine. The trip to the zoo with your family sounds fun, I bet the kids had a good time.
It's warm and humid here today, I can't wait for cooler weather this weekend. I went out again today and found some vitamins at Target, so I'm good for several months.
I had to go there because one of my Kindles died yesterday (at least I can't get it to turn on). I have an older Kindle but it doesn't hold a battery charge very well, so I needed to get a new one since I use that thing several hours a day for reading and internet use. So now I'll just need to get it set up, it's usually pretty easy, but all this technical stuff gets to me sometimes.
I also went in JoAnn fabrics today and bought some batting, some embroidery thread and some fabric. I found several fall fabrics that I hope to use for something (maybe the pumpkin quilt) and I also bought a few other blender fabrics. It was fairly busy in there, so I guess more people are getting out.
I agree with all of your thoughts on the pumpkin quilt. I think a wallhanging would be cute and there are a lot of ways to go with fabrics and sizes of this quilt. I was hoping to find the magazine with the pumpkin pattern, but they didn't have it in the store. Here's a picture so you can see the pumpkin quilt on the cover :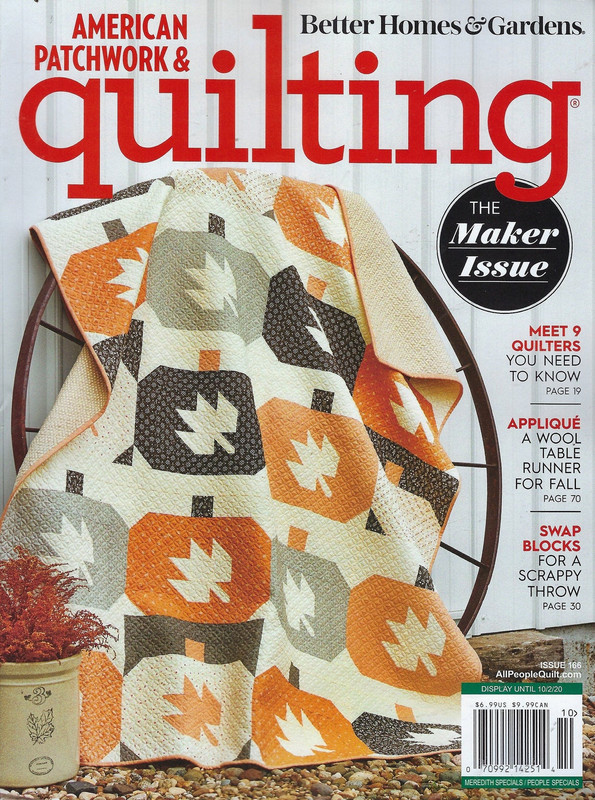 Take care everyone!